The beginning of a new academic year is right around the corner, which means that new technologies will be developed, tested, and implemented in the classrooms. TAM had an exciting Business Meeting during the annual CEC Convention & Expo in Boston. We had a record attendance and a lot of fun playing with such innovative technology tools as HTC Vive virtual reality headset, Microsoft Hololens smart lasses, Aurasma, Alexa, Osmo and a Dash-and-Dot robot. TAM members, seasoned and new, were "fishing" and "chasing tigers." This was a great opportunity to explore new toys and brainstorm innovative ideas to use those technology and media resources for support students with various abilities and needs. In the upcoming year, we plan to highlight some of the low-tech and high-tech advances in our new Tech Pick of the Week feature on the TAM website.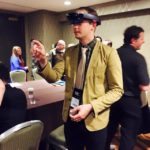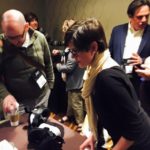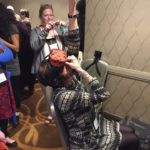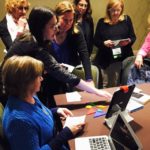 During the Business Meeting we also celebrated the winners of the JSET Research Article of the Year award – David F. Cihak, Eric J. Moore, Rachel E. Wright, (our own) Don D. McMahon, Melinda M. Gibbons, and Cate Smith for their article titled: Evaluating Augmented Reality to Complete a Chain Task for Elementary Students with Autism (JSET 31(2), 99-108). In addition, Robert Pennington received the Technology in Action Article of the Year award.  Hope this will be the beginning of a wonderful tradition that will be expanded to recognize teachers and students with disabilities successfully using existing and emerging technologies. TAM Board is determined to build a better bridge between research and practice in order to advance the technology integration by general and special education teachers. We invite you to publish research studies and practitioner-oriented publications in JSET as well as to contribute to our TAM Connector Newsletter.
Summer is a busy grant-writing time. Office of Special Education Programs (OSEP) and Institute of Education Science (IES) in the U.S. Department of Education had multiple requests for applications over the summer for the development and effective integration of technology in order to improve outcomes by students with disabilities in various environments. In fact, IES has supported over 400 projects between 2002 and 2014 focused on education technology, including (but not limited to):
A computer-based social intervention for students with high functioning ASD – a web-based intervention, Social Story Theatre
Reducing special education/reading risk for urban learners through an oral reading fluency intervention – voice-activated software for first- and second-grade students with disabilities
Transition outcomes for special education secondary students: Project Choices – an online intervention for high school students with disabilities
There were also multiple projects focused on technology to support teachers, instructional practice, and school improvement. More information about the federally funded new technology developments is available at https://ies.ed.gov/ncer/pubs/20170001/. TAM will continue to support both practitioners and researchers in the successfully integration of technology. Please don't hesitate to let us know how TAM can support you! We look forward to a new exciting academic year!
by Anya Evmenova