I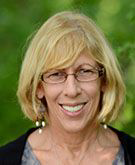 just returned from voting in Michigan presidential primaries. I did not have to wait in any line. In fact, I was in and out again, proudly wearing my I Voted sticker, in less than 5 minutes. I did hear that absentee voting had been relatively strong in my township, but I had to wonder why my polling place was so quiet. There seems to be so much at stake in this election that, perhaps, inaction by voters and citizens is of more consequence than the actions taken by the next president.
But, as I sit down to write this column, I find my mood shifting from one of discouragement to one of hope. If you are reading this, it is likely that you are a person who takes action. You are engaged in your field – in classrooms, centers, clinics, homes, and universities – using technology as one of the options that can improve outcomes for individuals with disabilities. You are the parents, advocates, teachers, researchers, and policy makers, who take action, every day, on behalf of clients and students. TAM would like to be a partner in your efforts.
Over the past several years, TAM has undergone some of the toughest times in its organizational history. If you have been a TAM member over these past few years, you have undoubtedly been frustrated with us. Perhaps you haven't been able to get access to JSET. Or you have wanted to order a TAM publication but have no idea how to do so. Or you've found that information on the TAM website is several years out of date, that links don't work, and that you can't access the information you were seeking.
Thank you for sticking with us. As many of you know, in a short span of time we lost our publisher and then our journal's co-editor and webmaster. Thanks to the incredibly hard work of a small group of dedicated Board members, TAM is getting back on track and, we hope, will become even better. I hope you come to the TAM Business meeting at CEC so that, together, we can acknowledge the contributions made by TAM leaders over the past two years. I cannot overemphasize how much they have done.
As we move forward, our publications program will be stronger than ever, with a new JSET publisher, SAGE, and new JSET editors. Our web site is undergoing a significant redesign, and we are seeking ideas from you about its format and content. Plans are underway to revise some of the most popular TAM publications, with some moving to digital formats. We welcomed several new members to our Board, and we have expanded our committee structure so that we have a good mix of experienced and new leadership in the organization.
However, we know that there are many ways in which TAM can better serve our members. We plan to be better advocates for legislation, policy, and other issues. We need to become more of a voice in CEC initiatives, and work more closely with other organizations in special education and technology. And we are laying the groundwork for providing more useful and timely information, including professional development options, to multiple audiences through social media. What else would you like to see us do this year? We hope to hear from you!
The upcoming CEC Convention in St. Louis will include over 45 sessions related to technology and media for individuals with disabilities. TAM's showcase session, Current and Future Technology Innovations in Teaching and Teacher Education to Ensure the Success of Students with Disabilities, will be presented by Dr. Lisa Dieker on April 13 from 3:30 to 4:30 in room 274 of the Convention Center. TAM's Business Meeting will take place on April 14 from 5:30 to 6:30 in the Marriott Parkview/Aubert room. We hope you will join us at these events. Or visit the TAM/ATIA booth in the Exhibit Hall. I look forward to working with you in the upcoming year to strengthen TAM as a resource for you, and for the profession. I know your good actions will continue, and I look forward to learning more about your work and the ways in which we can better serve you.