AT Ambassadors
By Mollie Kropp and Caitlin Radek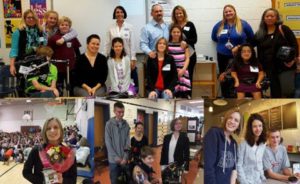 Fairfax County Public Schools AT Ambassadors is a program under Assistive Technology Services that is intended to showcase the leadership, self-advocacy, and technology skills of students with disabilities. AT ambassadors range in age from elementary through high school, and use a wide variety of assistive technology tools. One ambassador communicates using a speech generating device with switch access; a few ambassadors use speech recognition and word prediction tools to write; another uses adapted equipment to access computers; and one ambassador says she "cannot live without her iPad." No matter what tools they use, the AT Ambassadors' mission is to share their knowledge and ideas with educators, students, parents, and community members. They serve as role models for other students who use assistive technology and as resources for educators working with students with disabilities.
Each year, AT ambassadors participate in a variety of conferences and civic events throughout Fairfax County. This year, one of our ambassadors gave the keynote address at the Real Assistive Technology for Everyone (RATE) Conference. Her message about perseverance in the face of adversity was inspiring to everyone who attended. Later that same day, the AT Ambassador Group, along with their parents, hosted a Q&A session in which they discussed their journeys using assistive technology. Other events included a presentation to an entire elementary school during Inclusive Schools Week; hosting an exhibit table at the FCPS Special Education Conference; talks with a parent advocacy group; a meeting with a local delegate; and a social gathering at a local coffee shop. No matter which ambassador is sharing, it's clear that their message is, "No matter who you are, or what your struggles, you can achieve your dreams!"
Please submit ideas for Share a Story to be included in the next TAM Connector to Cheryl Temple at cltemple@fcps.edu.